Heirloom Survival Seeds
The Essential Survival Seed Bank

The photo above shows my Survival Seed Bank, and that canister is a FOOT tall and has even more seed packets in it than what you see spread out on my floor ... But first, I need to let you know what all this fuss is about. By now I'm sure all you food shoppers have discovered that prices are rising in an alarming manner.
No matter how they try to disguise the fact by making containers slightly smaller (i.e. 7 oz. of product versus our regular size of 8 oz, thereby keeping the price the same!) – it makes a ton of sense for us to start growing our own vegetables and fruits!
We're lucky enough to have a couple of orange trees on our property, but ... we need vegetables, and more fruit!
Harvest Seeds for Next Year's Bounty!
To grow your own fruits and vegetables, you need a good source of non-hybrid seeds. This enables us to grow all the survival food we'll ever need, anywhere in the country. Save some of your harvest seeds from the first year, and you'll have more than enough to plant in the second year!
We have started our garden planning – Click on this link: Garden and Compost Bin to take you to it!
Here's what you can expect each Survival Seed Bank to contain, though please note that because we are in a very real "non-hybrid" seed shortage, they may have to substitute varieties if supplies are exhausted! All Seed Banks will, however, contain the same amount of ONLY Heirloom Seeds.
Jacob's Cattle Bean

Bountiful Bean

Black Valentine Bean, stringless

Detroit Dark Red Beet

Copenhagen Market Cabbage

Scarlet Nantez Carrot

Fordhook Giant Chard

Golden Bantam Corn

Reid's Yellow Dent Corn

Straight Eight Cucumber

Rosa Bianca Eggplant
Oak Leaf Lettuce

Red Salad Bowl Lettuce
Hales Best Melon
Yellow Sweet Spanish Onion
Green Arrow Pea
California Wonder Pepper
Early Jalapeno Pepper
French Breakfast Radish
Bloomsdale Spinach
Waltham Butternut Squash
Brandywine Tomato
Wow, Don't They All Sound Super Delicious?!

Rest assured that I'll be adding photos of my 'seed growing project' ... In the mean time, please click the link to visit Betty, a really neat lady and my mom's friend, who grows her own vegetables in Florida and has NINE parrots!
For TONS more information on these fantastic seeds, please visit the seed suppliers by clicking on the ad below.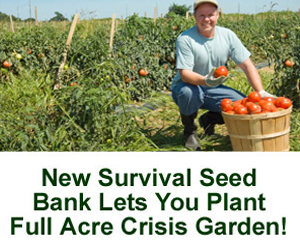 Check out this smart use
of space beneath
Bev's upper-story deck ...
a great greenhouse built
around the use of
recycled windows!
Get Armed With Our eBooks!

Howdy! While you're here, please take a moment to check out our three eBooks below. When clicked, you can read much more about each of them on our site. They are available for purchase via the links shown below each book's cover. Thanks.

5-Star Rated Easy Food Dehydrating & Safe Food Storage, and our other eBooks

BUY from these Stores
Amazon, iBooks, nook, kobo,
OYSTER, Inktera (Page Foundry),
and Scribd.
This is the "real McCoy" –
beware of imitations!
Prefer the "old-fashioned" book
to read in your lap?
It's RIGHT HERE too!
BUY HERE
Amazon
Coming Soon:
iBooks, nook, kobo, OYSTER,
Inktera (Page Foundry),
and Scribd

Sign Up for our
FREE Mini Course!
Learn how to keep a full pantry – for any reason or season!
Our 6-part email series will arrive in your inbox every three days – click the little girl's basket of apples to find out all about it!
Easy Food Dehydrating Is Featured On MOTHER EARTH NEWS!
Easy Food Dehydrating Is
Featured On
MOTHER EARTH NEWS!
go visit MOTHER EARTH NEWS!
Read More of our Blog Posts Here

Check us out on these great channels:

Home

› Survival Seeds